Atlas Kasbah hotel, Agadir


Atlas Kasbah offers you a unique holiday in the pastoral Moroccan countryside (within the Souss Valley) near Agadir, under the watch of the Western High Atlas Mountains.
Atlas Kasbah welcomes you in this very special place. The Kasbah also represents an innovative philosophy; the union of visitor comfort and absolute respect for the environment. Based on the principles of sustainable tourism, Atlas Kasbah uses solar energy, organic farming, earthen architecture, rain water harvesting and management practices in accordance with sustainability principles and international quality standards.
Here are some of our activities : Introduction to native languages, Hikes or Donkey-rides, Honey Making, Introduction to tadelakt, Introduction to Moroccan cuisine, Henna Tattoo ...
The uniqueness of Atlas Kasbah lies in fact that our services integrate sustainability, innovation, respect for the environment and the appreciation for the local Berber cultures. Consequently, the Kasbah places an emphasis on eco tourism labels.
In order to achieve these objectives, we have worked with six fundamental criteria including: water, energy, waste, purchasing, the integration with the scenery and environmental education.
Here are some of the concepts we have implemented:

First Criterion: Water Conservation
• Use of mixer taps;
• Double flush toilets;
• Intelligent irrigation for the garden: well water, drop by drop system and irrigation at the end of the day;
• Use of biodegradable cleaning and bathroom products (no phosphate, non toxic, non corrosive, non-chlorinated).

Second Criterion: Energy Conservation
• Use of renewable energy technologies (80% of the electricity and all of the water heating comes from photovoltaic panels);
• Low consumption light bulbs;
• Passive solar heating;
• Maximization of natural lighting and ventilation.
Third Criterion: Waste Management
• Implementation of the 3RV rule: reduce, reuse, recycle and valorisation. Reduction of disposable objects, no individual packaging and hence less packages;
• Left over vegetables are used as animal feed;
• The Kasbah is a non-smoking establishment.
Fourth Criterion: Purchasing Practices
• Local organic garden with organic fertilizer;
• Respect of the seasonality of products;
• Appreciation of local and non-pollutant products (pottery, reed…).
Fifth Criterion: Integration with the landscape
• Use of local traditional architecture
• Interior and exterior walls made entirely of natural products (mud brick walls, tadelakt…);
• Over 90% of the Kasbah terrain is open green spaces;
• The garden includes local or endemic plants;
• Integration of representative elements of the region's culture and tradition.
Sixth Criterion: Environmental Education
• Work with the staff in relation to information and education on environmental issues;
Situation of hotel Atlas Kasbah
Location : The Nearby, - City of Agadir, in the touristic area of Agadir, Morocco.
Details of Atlas Kasbah hotel
Nearby shopping
Accessible by Transport
Nightlife restaurants
Accessible by Transport
Leasure in Atlas Kasbah hotel
Outdoor Pool
Amenities in Atlas Kasbah hotel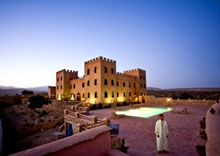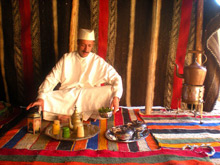 Business Amenities
Back to all Agadir hotels
Your account
Book your room in this hotel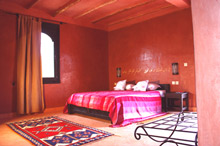 Bounty Tours messages
New Modern & professional design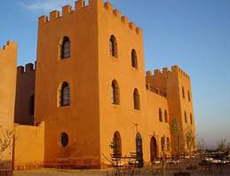 Always we improve our web site www.bounty-tours.com to facilitate to you all your bookings online with our new professional & modern design . All your bookings online will more effectively be handled. Please try now with this new face of www.bounty-tours.com
New Rates 2015-2016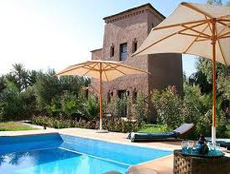 We thank you for having to use our services during the last season and we inform you that new tariffs 2015-2016 will be online as soon as possible to be able to carry out your bookings directly. In case you are facing any complications, please dont hesitate to contact us on operations@bountytours.com or +212528827711/12
Currency Exchange
All our prices are indicative, and must be confirmed after every effective booking.
For information, currency rate change is approximatively :
09.50 MAD for $1.00,
10.50 MAD for 1,00 €
If script doesn't work properly, please Subscribe to our newsletter
If you want to leave us: Unsubscribe from our newsletter